Powerful outdoor advertising solutions delivering results
Promogroup are the leading specialists in effective and eye-catching mobile outdoor advertising solutions for businesses and agencies nationwide.

We offer the widest range of digital (Black Range) and non-digital (White Range) 'state of the art' mobile advertising vehicles and outdoor mobile media, ambient media and transport media options in the UK market.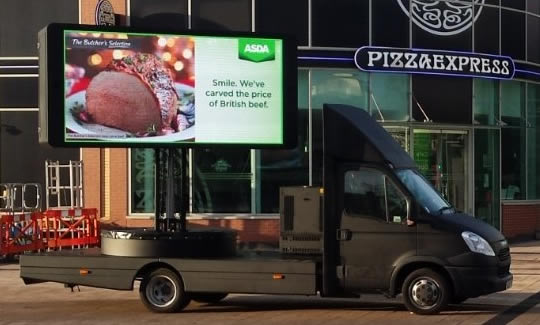 We've got the experience, contacts and knowledge
Promogroup own and operate our fleet of Promohire mobile advertising services which includes advertising vans, (standard, Backlit and digital advans), advertising bikes (standard and digital adbikes) and advertising scooters.
Promogroup with many years of experience, contacts and knowledge in the outdoor market place, are well positioned to help clients and agencies effectively dissect all the Out-of-home (OOH) and Digital Out-of-home (DOOH) opportunities available, as well as plan and buy a wide choice of relevant outdoor media to add extra value to the marketing mix.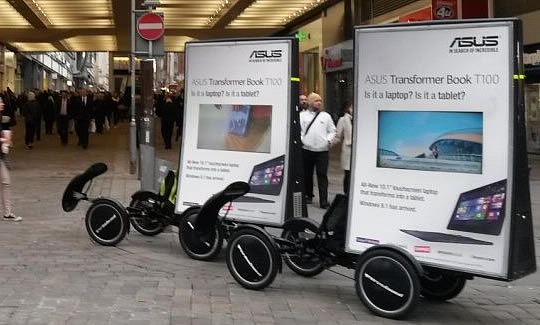 Attracting attention wherever they go!
Along with our large choice of mobile and events billboards we offer a range of accountable ambient and transport media solutions. You can find all manner of outdoor advertising options at Promogroup with a diverse range including promotional staff, adwalkers, adtrailers, inflatables, blimps, video screens, pedicabs, taxis, buses, billboard posters and flags amongst many others.
Whatever your requirements, our innovative, quantifiable and cost effective services will attract attention wherever they go!
Promogroup adhere to two key fundamental maxims which we have built the business on:
Firstly, to continually update our fleet providing clients and agencies with the newest and most effective vehicles and unique products, such as the digivans, digibikes, digidisplays and digiwalkers, all of course comprehensively insured and ready to operate from our depots across the UK.
Secondly, to offer the highest standards and service in planning, delivering and reporting on clients campaigns.
We undertake campaigns for clients across a variety of industries
Promogroup work for clients across both the private and public sector. These campaigns may be planned and bought directly or through advertising agencies, outdoor specialists, event, PR, marketing and experiential agencies. Clients include retailers, police forces, local authorities, education, primary care trusts, government, fire services, political parties and pressure groups amongst others.