Promogroup are the leading specialists in effective and eye-catching mobile outdoor advertising solutions for businesses and agencies nationwide.
Promogroup offer the widest range of digital (Black Range) and non-digital (White Range) 'state of the art' mobile advertising vehicles and outdoor mobile media options in the UK market.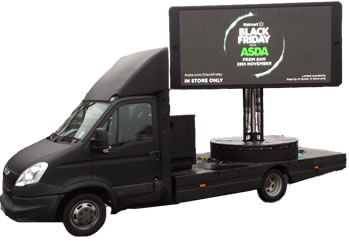 Promogroup own and operate our fleet of promoservices which includes advertising vans, (standard advans, Backlit advans and digital advans), advertising bikes (standard adbikes and digital adbikes) and advertising scooters.
Along with these mobile billboards we offer a range of accountable ambient media solutions and outdoor advertising using promotional people, adwalkers, adtrailers, inflatables, blimps, video screens, pedicabs, taxis, buses, posters and flags amongst others.
Whatever your requirements, our innovative, quantifiable and cost effective services will attract attention where ever they go!
We continually update our fleet providing clients and agencies with the newest and most effective vehicles, such as the digivans, digibikes and digiwalkers, all of course comprehensively insured and ready to operate from our depots across the UK.