Promodigital Vans
Digital advertising vans (Digivans, Digital advans) along with standard & Backlit advans are all included in Promogroup's fleet of advertising vehicles, helping the public engage with your brand.
Promogroup's 'Black Range' of Digivans offer access to the largest fleet of multi-screen LED and HD digital vans. The vehicles having a combination of two side screens and a rear screen and are the only multi-screen digital vans fitted with high quality audio systems.
In the Black Range, Promogroup has two models: the 'Classic' and the 'Premium' multi-screen digital vans.
The 'Classic' black range offers 6sq mtrs of screens and the 'Premium' black range 12sq mtrs of screen area.
In The Black Range Promogroup only uses LED screens of under 10mm (they are 8mm and 5mm actual size not virtual). This makes them easily viewable from as close as 2 metres so producing crisp, bright images unrivalled by any other mobile digivans in the UK today.
This number of screens per digiadvan make them special in the market place and very effective for mobile or static promotional activity. Unlike single screen vehicles, the sunlight or direction the vehicle is travelling in will not effect a multi-screen digi-van due to the range and choice of screens available. This makes it perfect for operating at street level with an audience on three sides!
This fleet of TV vans are able to run on biofuel and with no paper/printing wastage they offer a low carbon footprint.
From our bases in London, Rugby and Harrogate Digital Promovans work nationwide to flexibly carry your targeted advertising into high footfall areas with maximum impact producing a high return on investment.
Promodigital vans have shown their power of delivery by successfully executing campaigns for both the private and public sector.
The digital advans appeal to both the visual and audio senses using either video or animated images (slide shows) coupled with digital sound.
The innovative technology allows us to upload content to each vehicle regardless of location and can cater for broadcast at live events.
Digivans can be tracked by GPS technology allowing full monitoring of their movements and the production of reports to demonstrate full accountability.
Promodigital vans can be used for day or night time campaigns.
Promodigital Vans benefits:
Enhanced audio system
Bluetooth enabled
Game console enabled
Internet access enabled
Live feed and broadcast
Branding area around the screens
Other uses include:
Corporate/business events
Private functions
Presentations
Cinema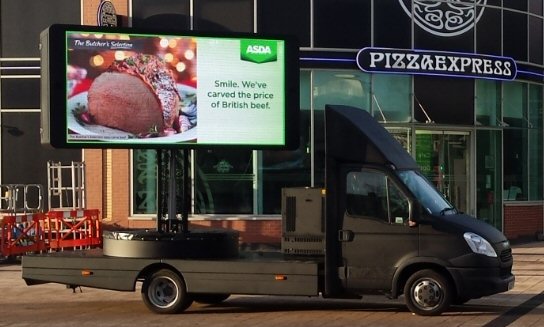 ​