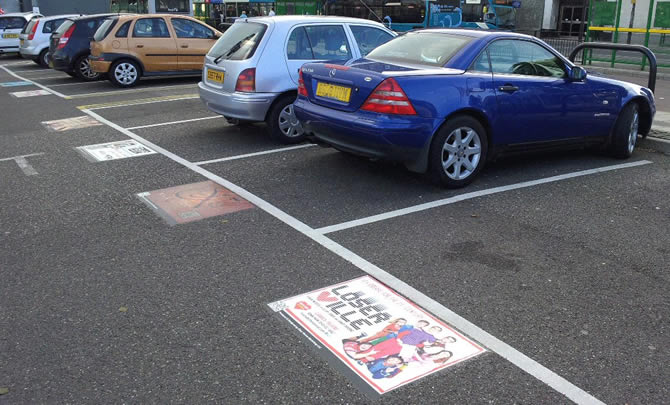 Indoor/Outdoor – Car Park Floor Signage
In a progressive and highly competitive marketing industry, our unique car park floor advertising cuts through the chaos, offering a cost-effective, high impact media platform to engage and continually influence consumers.
The nature of such advertising ensures 24 hour exposure, within specifically targeted car park locations, outperforming alternative standalone marketing methods such as print, radio or television promotions. We adopt a multi channelled marketing approach. Our team will work with you to ensure that your campaign reaches your precise target market, skilfully blending together the most effective marketing mix to ensure maximum impact.

Features and Benefits include:
Unique – beyond compare, your brand will stand out from the crowd
Targeted – we use our knowledge and expertise to ensure your campaign attracts the attention of your specific target market
Highly memorable – provoking compelling word of mouth marketing
Cost effective – 80% less than television adverts and 50% less than radio campaigns
Amplifying and complimenting other media – easily incorporated into an all inclusive marketing plan
Versatile - fits easily into any existing spaces
Quick to install – ensuring short lead times and immediate impact
Whether it's a one-off local promotion or an ongoing brand awareness strategy, our product has been designed and developed to work for short or long term exterior use, allowing flexible options and an opportunity to build ongoing scalable campaigns.

Product Notes
Production lead time from receipt of artwork: Typically 3 Weeks
Booking lead time: Typically 4 Weeks
Additional transport costs may apply depending on location. Please request a formal quote to confirm.
This is a guerrilla format and planners should communicate that the client is liable for the campaign and it's outcome at all times.
Minimum 20 vinyls per location (postal district, neighborhood or town).
Where the vinyls should only be visible for a specific time period, we recommend a removal cost is built into the final project costs. Please enquire for removal costs if required. Estimate removal costs £600 per campaign pack of 20 vinyls.
Rates include production of 1 creative design only. If additional designs are required this are charged at £250 per design.