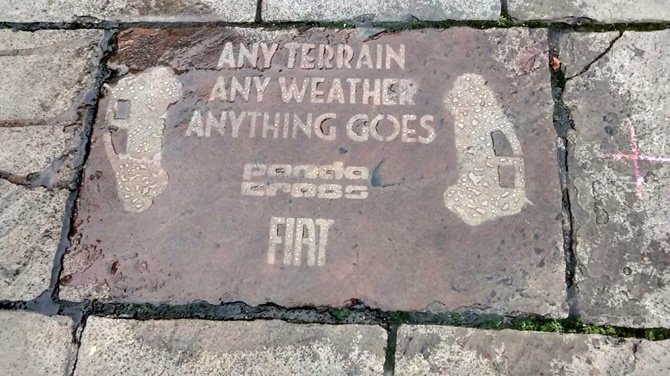 Rain Activated Ads
If you are looking for a very green form of advertising to work with the British weather then 'rain activated ads' could be the answer. Using water-resistant paint, a series of words are stenciled on the ground. These letters were totally invisible when dry, but when wet, phrases and logos will appear, seemingly out of nowhere, right at the feet of the consumer.

Product Notes
Production lead time from receipt of artwork: Typically 2 Weeks
Booking lead time: Typically 4 Weeks
This is a guerrilla format and planners should communicate that the client is liable for the campaign and it's outcome at all times.
Minimum 25 stencils per location (postal district, neighborhood or town).
Where the stencils should only be visible for a specific time period, we recommend a clean off cost is built into the final project costs. Please enquire for removal costs if required. Estimate clean off costs £600 per campaign pack of 25 stencils.
Rates include production of 1 creative design only. If additional designs are required this are charged at £250 per design.