Hi,
Welcome to Promogroup's Digital Black Range.
Since Promogroups introduction of the Classic Digital vans 5 years ago we have continued to invest in the design, development and production of state of the art digital advertising products with the aim of putting the best mobile digital vehicles out there. These products truly allow you to engage with the audience using the newest and most eye-catching digital vehicles available in the UK market packed with technological benefits.
Promogroup have just launched their second generation Premium Digital advans, like the existing fleet they are all multi-screen models capable of attracting the public from different directions on the high street, in retail parks or at events. Why use a single screen vehicle when you can offer double or triple screen vehicles for the same cost. To enhance their effectiveness the screens can elevate and rotate to face the right audience at the right time and so optimise their potential in any surroundings.
The Digital products that Promogroup offer are clearly branded as the 'Black Range' and consist of Digital Advans (Premium and Classic), Digital Adbikes and Digital Adwalkers. Promogroup offer the widest range of digital mobile products nationwide for both the private and public sector.
Promogroup is not an agency or broker, we operate our own fleet so keeping the costs very competitive for you, representing a true market value. Campaigns on our advertising vehicles will run from our nationwide depots, (London, Harrogate, Rugby and Newcastle) manned by our own employees not agency staff. We continually update our fleet providing clients and agencies with newest and most effective vehicles all with full insurance, risk assessment and GPS/sat nav tracking for reporting and accountability.
Please see below some examples of the Digital Black Range.
Kind regards,
From all at Promogroup.
Premium Digital Advans - Two Screens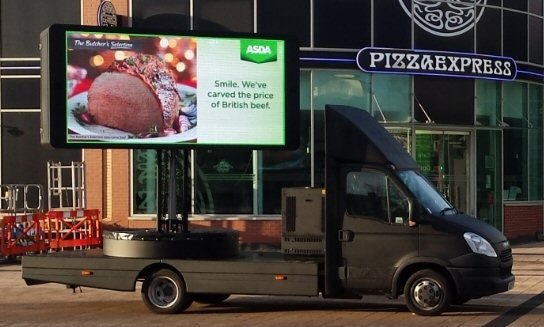 Client: Asda
Period: Nov 2014
Locations: Nationwide
Media Solutions: Digital Advans - Premium and Classic
Promogroup's new Premium Digital van stylishly incorporates twin high brightness LED screens to seamlessly resemble back-to-back tablets in a stealth black, so helping focus on the content displayed.
Both screens can elevate and rotate through 180 degrees to maximise the target audience and exposure in any location or event.
Like all the other LED digital vans in the fleet the screens are high brightness, 8mm pitch or below to allow close proximity viewing and high definition images at street level.
Promogroup's digital range all have video and audio capability as standard along with many other technical options such as live feeds, broadcast, photo displays, internet and social media.
Nationwide servicePublic and Private sectorRetail, Event, Product, Proximity and Experiential Marketing
Largest fleet of multi-screen LED Digital Vans
Only multi-screen vans with audio and elevation
Audience measurement tools and reporting
Work closely with clients, agencies and outdoor specialists
Premium Digital Advans - Three Screens
Client: Wrigleys
Period: 2014
Locations: Manchester & London
Media Solutions: Digital Advans - Premium
Promogroup also offer tri-screen Premium Digital vans that have two elevating LED side screens and and a rear screen for three directional exposure.
These digital vans have proved very popular and effective for clients executing campaigns across the country for retail clients (new stores and refurb store openings), property developers, automotive clients, political parties, product launches, recruitment, exhibitions, shows, presentations and events amongst others. These are the only multi-screen vehicles with audio capability.
Video (Avi, Mpeg2&4, WMV, DivX, Xvid)
Slide showsStill Content (JPEG, PNG BMP)
Audio enabled (MP3, WAV, AC-3, WMA, Ogg Vorbis).
Bluetooth enabled
Display photos
Live Feed cameras
Internet enabled – Twitter/Facebook etc
Built in the UK
Built for street level advertising
Built for three directional exposure
Classic Digital Advans - Three Screens:
Client: Audi
Period: Nov 2014
Locations: Harrogate.
Media Solutions: Digital Advans - Classic
In the past Digital Advans have often been viewed as an expensive alternative to standard advans and backlit advans but now Promogroup is pleased to offer a two tier pricing system with its Black Range of digital vans by offering a choice of either the Premium or Classic vans. This makes them more affordable and accessible to clients on a daily basis by bridging the cost gap that existed before.
'Classic'
Each vehicle having two side screens and a rear screen.
3x LED screens giving a total viewing area of 6sq mtrs.
Branding area around the screens
5mm true pitch screens
'Premium'
Each vehicle having two side screens and a rear screen.
3x and 2x LED screens giving a total viewing area of 12 sq mtrs.
Brightest and highest resolution screens on any mobile vehicles using 8mm true pitch screens (easy viewing at close proximity street level in all directions)
Both side screens can elevate in line with the vehicle height for standout at events and over crowded areas.
Digital Adbikes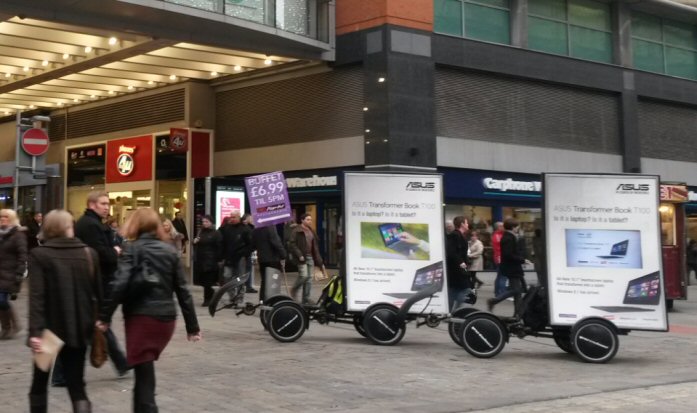 Client: Asus
Period: 2014
Locations: Manchester, Birmingham, London
Media Solutions: Digital Adbikes
If you are looking to engage with the public on the high streets then the Digital Adbikes offer the perfect experiential format. The Digital Adbikes are unique in that they have the screens for playing out movies, jpegs, and presentations and they also have prominent branded area surrounding the screens all coupled with audio.
47" LCD HD High Brightness screen on one side and 6-sheet posters on the other.
Branded border surrounding the screen area.
Media players able to play out adverts or content in several formats including video, slide show and stills, all audio enabled.
Rider can wear branded uniform and distribute leaflets.
This digital technology allows the already successful Promobikes concept to develop even further as an effective experiential proposition.
Game Console and internet enabled.
Touch screen capability.
Digital Adwalkers: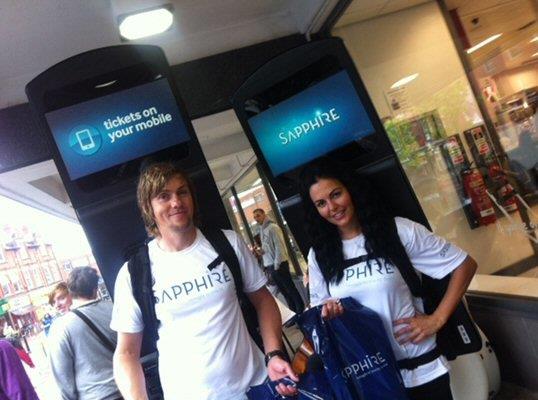 Client: Arriva
Period: Aug & Oct 2014
Locations: Cannock, Tamworth, Derby.
Media Solutions: Digital Adwalkers and Digital Advans
Digital Adwalkers can be used as a stand alone marketing tool or to compliment the Digital Advans and Digital Adbikes adding further impact and interactivity to any campaign.
The below points outline the technical capabilities of the Digital Adwalkers.
22" HD Digital Screen
Front1.5m x 0.5m Poster Rear
Integrated dWalker Computer
HD Video
5.1 Virtual Surround Sound
WiFi, Bluetooth and NFC
Various Human Interaction Methods (e.g. Web Cam, Game Controllers, Wireless Keypads)
Data Capture
Bespoke Apps
Lightweight & Seamless Design
Remotely Manage Content Option (adapt to instant digital content change requirements)
Built in the UK
Protected by International Registered Design (OHIM/WIPO)
Promogroup Ltd
Unit 8, River Reach
Gartons Way
London
SW11 3SX
Tel: 0207 978 6399
Fax: 0207 978 6394