Promodigital vans:
Promogroup offer access to the largest fleet of tri-screen digital vans in the UK. Each vehicle having two side screens and a rear screen giving a total viewing area of 75sq feet. This number of screens are unique to the UK market place and make it very effective for mobile or static promotional activity.
The fleet run on biofuel and with no paper/printing wastage they offer a low carbon footprint.
From our bases in London and Harrogate Promodigital vans work nationwide to flexibly carry your targeted advertising into high footfall areas with maximum impact producing a high return on investment.
Promodigital vans have shown their power of delivery by successfully executing campaigns for both the private and public sector.
Promodigital vans appeal to both the visual and audio senses using either multiple video, looped video or animated images (slide shows) coupled with digital sound.
The Promodigital bike fleet has also added another two vehicles to the stable.
Promodigital bikes:
Promodigital bikes provide an environmentally friendly and future proof product.
On one side of the advertising pod there is the standard 6-sheet poster and on the other side an LCD screen surrounded by a border that the client may also brand.
Our new Promodigital bikes incorporate outdoor 37" LCD screens capable of delivering high quality resolution in the brightest daylight conditions coupled with media players able to play adverts or content in several formats including video, slide show and stills, all audio enabled.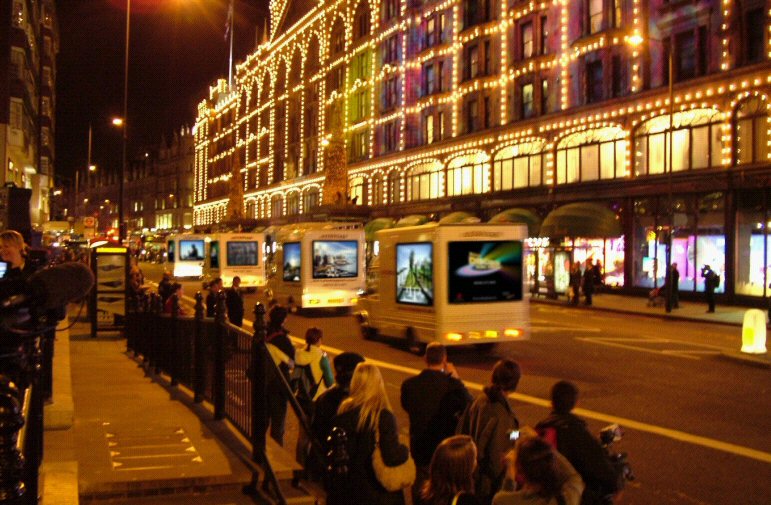 Promodigital Vans & Promodigital bikes screen displays:
Video (Mpeg 2 & 4, WMV, DivX, Xvid)
Slideshows
Still Content (JPEG, PNG BMP)
• Audio enabled (MP3, WAV, AC-3, WMA, Ogg Vorbis).
Bluetooth enabled
Game console enabled
Display photos